USV,autonomous survey and return, remote control 2km, speed 5m/s maximum, work with echosounder and RTK,export dxf and dat (including 1 USV boat standard set,communication device set,1 S18+ echosounder set and 1 G1C rover set )
Features
SOUTH SL20 surveying boat adopts dual spray pumps for the propulsion system, and use differential motion to control driving direction of boat. This propulsion system greatly improve the disadvantages of propeller system in previous products that in case of aquatic plants are sucked into propeller and damage the propulsion system.
Coming with carbon nanofiber material and the innovative hull design, SL20 surveying boat becomes an outstanding hydrographic equipment with small size and lightweight, it is very convenient to carry to the field, and one person is able to accomplish the mission.
With moon pool design which running through the bottom, SL20 is able to carry the ADCP(Acoustic Doppler Current Profilers), echo sounder, RTK receiver or the other equipments,  which makes small boat be a combination system and implement surveying works to be diversified.
SL20 boat is mainly applied to the basin of rivers, lakes and reservoirs where there is quiet waves. It can sail to about 2km away from control center with manual remote control, or it is set to return automatically while it reach to the boundary of specified working area.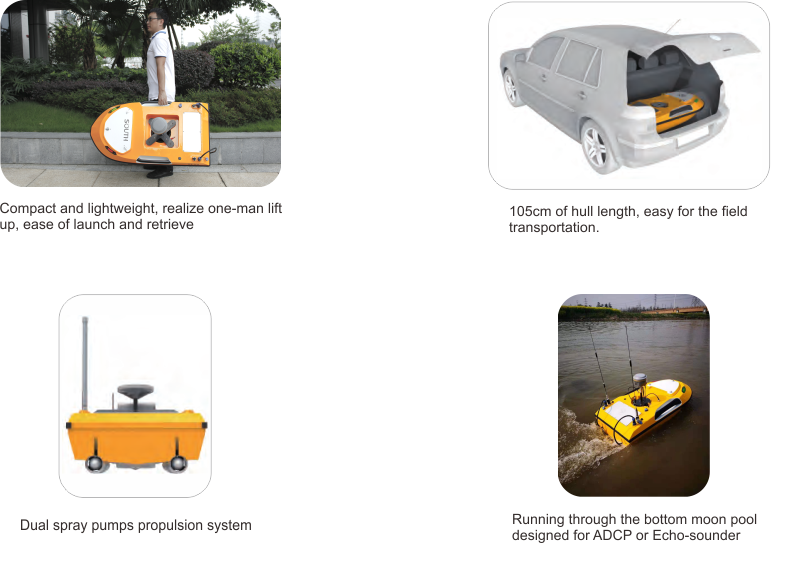 Additional information
| | |
| --- | --- |
| Weight | 14 kg |
| Dimensions | 1050 × 550 mm |
Specification
Physical
Hull Material
Carbon Fiber
Hull Length
105 cm
Hull Width
55 cm
Weight (excl. ADCP)
14 kg
Payload
10 kg
Motor
Water jet propeller
Moon Pool
≤ 190 mm
Communication
Remote Control
Radio Frequency
Remote Control Frequency
900 MHz / 868 MHz
Remote Control Range
2 km
Data Telemetry Frequency
900 MHz / 868 MHz
Data Telemetry Range*
2 km
Performance
Survey Speed
2-5 knots (1-2.5m/s)
Top Speed
10 knots (5m/s)
Battery Endurance
4 hours @ 2.5m/s
Battery Pack**
1 x 33V 40Ah
Quick Battery Replacement
Options
Autonomous control Real time video monitoring
ADCP telemetry module
SOUTH 18S echo sounder
*2.4G wireless Ethernet as option, telemetry range 2km @ 2Mbps **Higher capacity battery pack as an option Note: all information above is subject to change without any prior notice.