●Dual Frequency Digital Echo Sounder
●Dual Frequency Digital Echo Sounder
●Embedded WindowsXP operating system, user-friendly interface
●Integrated with both computer and echo sounder at industrial level, yet low power consumption
●Full aluminum housing, compact and handy, particularly designed for less-than-ideal circumstances
Features
SOUTH SDE-260D is full digital dual frequency echo sounder, follows the style of the SOUTH echo sounder products, has very good performance product with advanced echo and digital processing technology. The standard configuration of the sde-260d dual-frequency sounder is 200 kHz and 20 kHz. high-frequency precision, good low-frequency penetration and strong anti-interference performance, can not only ensure the precision of the water depth measurement, but also effectively eliminate the influence of the muddy water, the quicksand layer, the weeds, the hull noise and the water vortex on the water depth measurement, and more effectively reduce the interference of the false water depth, The measurement of the silting and floating mud in the dredging construction is also very effective.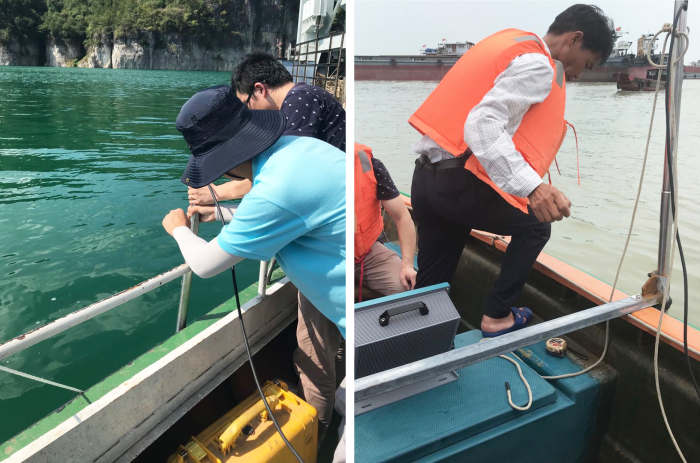 EchoSounder software is main use for configure the transducer sounding parameters, collect the echo wave raw data, transmit the data depth data to the Hysurvey software.  See below picture is the main interface of this software:

Hysurvey software is main used for setting up project parameters, survey navigation, collecting the depth and position data, echo data process and result data output.

Below is the main interface and the function introduce of the Hysurvey:
Additional information
| | |
| --- | --- |
| Weight | 7.5 kg |
| Dimensions | 350 × 300 × 150 mm |
Specification
Measurement
Frequency
High: 200KHz
Low: 20KHz, 24KHz, 33KHz (optional)
Beam angle
7°
Depth resolution
0.01m
Accuracy
High frequency: 1cm ± 0.1% D (D is depth constant value)
Low frequency: 10cm ± 0.1% D (D is depth constant value)
Ping Rate
14Hz, Maximum 30Hz
Sound Velocity
1300 – 1700m/s
Depth Range
High: 0.3-300m
Low: 0.8-2000m
Draft
0-9.9m
Gain Control
AGC and TVG, depth and gain, a double door tracking
Output data format
NMEA0183, DESO25, SOUTH, SDH-13D
Physical
Environmental
-30℃ ~ 60℃ non-condensing
Output Power
High: 300-400w
Low: 600-800w
Power Supply
9-18V DC, 110V-260V AC
Display
12.1-inch color LCD touch screen
Interfaces
3 × USB, 2 × RS232, 1 × VGA
Dimension
35cm × 30cm × 15cm
Weight
7.5kg
Hardware
Operating System
Windows XP
CPU
1.6GHz
RAM
2G
ROM
16G
Note: all information above is subject to change without any prior notice.