Extra small size, 181 channels, support all constellations, BEIDOU signal receiving capability enhanced.
Make It Small to Minimize Fatigue
The diameter of the K3 is only 13cm, height only 8.53cm, and the weight is only 820g. It is as small as an apple that you can even put it into your pocket.
181 channels,Enhanced BEIDOU.
K3 is equipped with a high performance 181 channels GNSS board which is capable to support multiple satellite constellations: GPS, GLONASS, BEIDOU and GALILEO, including the latest Beidou-3 system.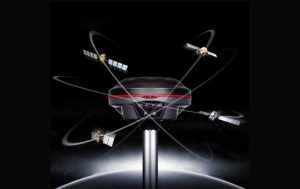 High Technology Integration
GNSS antenna, Bluetooth, wifi module are integrated into one board, which helps to save the internal space of K3, making the signal better and performance more stable.
Fully-sealed Rugged & Durable
K3 is able to withstand 2 meters pole drop onto the cement ground naturally and fully protected against blowing dust. 4 hours quick charge is enough to enable K3 a 14 hours of using time.
New Case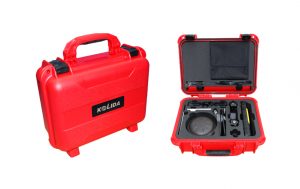 Easy to Carry
The dimension of the new carrying case of K3 is only 37cm x 30.5cm x 16.9 cm, with instrument inside it weights only 4.9kg. The case is made of wear-resistant materials.
Additional information
| | |
| --- | --- |
| Weight | .820 kg |
| Dimensions | 130 × 85.3 mm |
Specification
Satellite Tracking Ability

Channels

181

Constellation

GPS, GLONASS, BEIDOU, GALILEO, SBAS

MSS L-Band

Preserved

Positioning Output Rate

1Hz-50Hz

Initialization Time

<10s

 

Positioning Precision

UHF RTK

Horizontal ±8mm + 1 ppmVertical      ±15mm + 1ppm

Network RTK

Horizontal ±8mm + 0.5ppmVertical      ±15mm+0.5ppm

RTX

Horizontal ±2cmVertical      ±5cm 

Static and Fast Static

Horizontal ±2.5mm + 0.5ppm

Vertical      ±5mm + 0.5ppm

RTK Initialization Time

2-8s

User Interaction

Operation System

Linux

Web UI

Yes


Wifi

Yes


Voice Guide

Yes

Data Storage

8GB internal; up to 32GB external.

Working Capability

Radio

Built-in receiving

Tilt Survey


N/A

Electronic Bubble

Yes


Endurance

>14 hours (static mode), 10to 

14 hours (rover mode)

OTG Function (Field Download)

yes

Other Function

Mobile Reference Station (wifi)