$7,222 – $7,950
CAD:

$9,726.59

-

$10,707.06
During the Multiple constellation age, SOUTH keep developing and optimizing the innovative products for customers, SOUTH Galaxy G6 RTK system adopts intelligent cloud platform as its new engine, to lead the development or smart RTK system.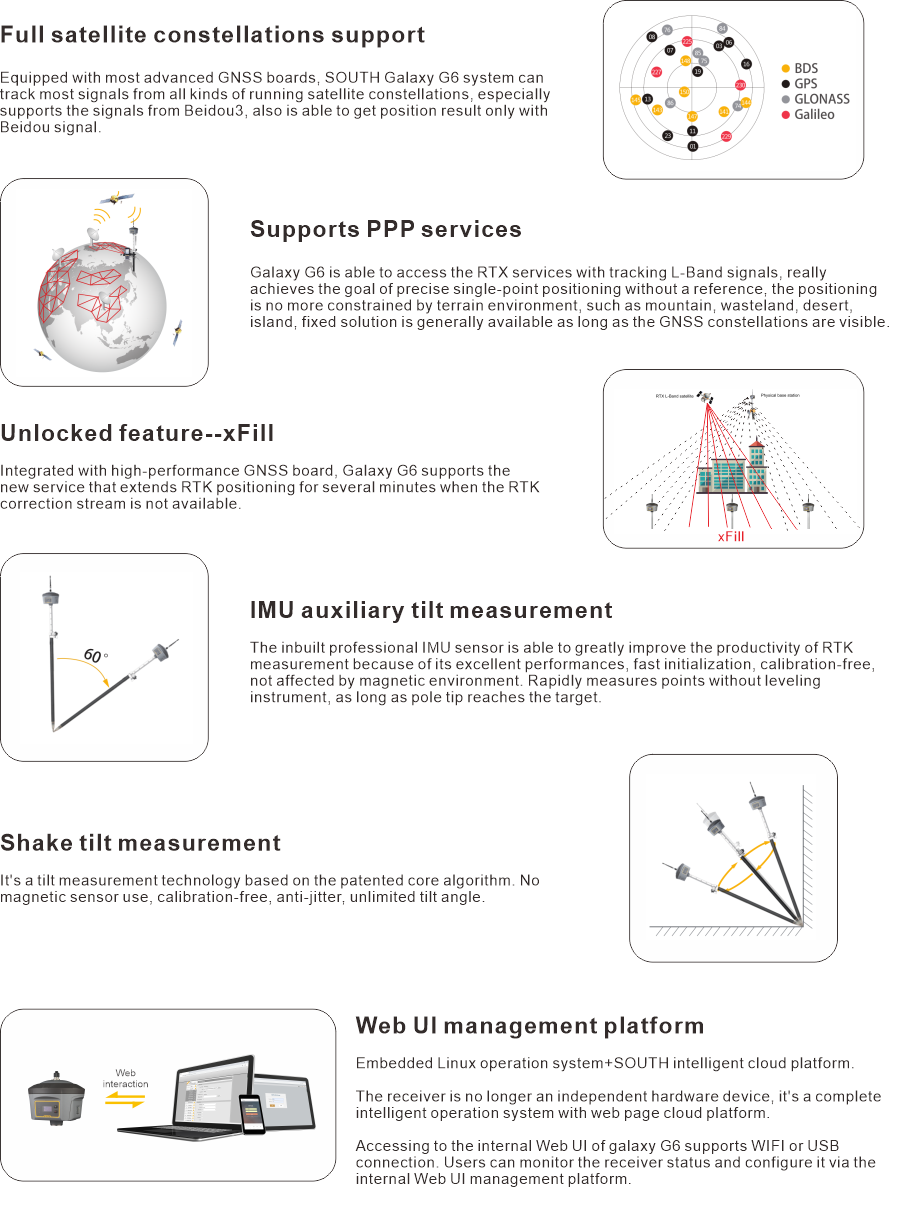 Brand
South Instrument
Geomatics Gear - info@geomaticsgear.com - Call 1-888-410-1210. Equipment and software solutions for conventional, GNSS, UAV/drone, LiDAR, GIS, mapping and hydrographic equipment

Additional information
| | |
| --- | --- |
| Weight | N/A |
| Dimensions | N/A |
| Model G6 | Base Receiver, BD970, 220 channels,tilt, WebUI, WiFi, LED, 4G, UHF,410-470MHz, Rover Receiver, BD970, 220 channels,Tilt, WebUI, WiFi, LED, 4G, UHF,410-470MH, Base Receiver, BD990, 336 channels tilt, WebUI, WiFi, LED, 4G,UHF,410-470MHz, Rover Receiver, BD990,336 channels,Tilt, WebUI, WiFi, LED, 4G, UHF,410-470MHz |
Specification
GNSS performance
Channels
336, 220 (optional)
GPS
L1C/A, L1C, L2C, L2E, L5
GLONASS
L1C/A, L1P, L2C/A, L2P, L3
BDS
B1, B2, B3
GALILEO
E1, E5A, E5B, E5AltBOC, E6
SBAS
L1 C/A, L5
QZSS, WAAS, MSAS, EGNOS, GAGAN
L-Band
Trimble RTX
Positioning output rate
1Hz~50Hz
Initialization time
<10s
Initialization reliability
>99.99%
Positioning precision
Static surveying
Horizontal: 2.5mm+0.5ppm RMS; Vertical: 5mm+0.5ppm RMS
Code differential positioning
Horizontal: 0.25m+1ppm RMS; Vertical: 0.50m+1ppm RMS
Real-time kinematic surveying
Horizontal: 8mm+1ppm RMS; Vertical: 15mm+1ppm RMS
RTX
Horizontal: 4-10cm; Vertical: 8-20cm
SBAS positioning
Typically<5m 3DRMS
xFill
Horizontal: 5+10mm/min RMS; Vertical: 5+20mm/min RMS
IMU tilt compensation
Additional horizontal pole tip uncertainty typically less than 8 mm + 0.6 mm/° tilt down to 30°
Tilt angle: 0°~ 60°
Single positioning
—
User interaction
Operaing system
Linux
Buttons
Double buttons and visual operation interface
LCD
0.96 inch HD OLED screen, the resolution is 128 x 64
Indicators
—
Web UI
Accessing by WIFI or USB mode to monitor the receiver
Voice guide
iVoice intelligent voice technology provides status and operation voice promptly, Supports Chinese, English, Korean, Russian, Portuguese, Spanish, Turkish
Secondary development
Providing secondary development package, and opening the OpenSIC observation data format and interface definition for secondary development
Data cloud service
Web page cloud service management platform, supporting online register etc
Hardware performance
Dimension
152mm (diameter) × 137mm (height)
Weight
1.44kg (including battery)
Material
Magnesium alloy shell
Operating temperature
-45°C ~ +60°C
Storag temperature
-55°C ~ +85°C
Humidity
100% Non-condensing
Waterproof/Dustproof
IP67 standard, protected from long time immersion to depth of 1m, and fully protected against blowing dust
Shock and vibration
MIL-STD-810G standard vibration test certified
Power Supply
9-25V wide voltage DC design, with overvoltage protection
Battery
High capacity removable battery with the indicator displaying the power usage, 7.4V, 6800mAh/per
Battery solution
Providing the 7 × 24h battery solution
Battery life
More than 30h (static mode), More than 15h (RTK mode)
Communications
I/O port
5-PIN LEMO port, 7-PIN USB port (OTG), 1 network/radio data link antenna port, SIM card slot
Wireless modem
Integrated internal radio receiver and transmitter 1W/2W/3W
Frequency Range
403-473MHz
Communication Protocol
Trimtalk450S, SOUTH, SOUTH+, SOUTHx, huace, ZHD, Satel
Cellular Mobile Network
TDD-LTE, FDD-LTE 4G network modem
Double Module Bluetooth
BLEBluetooth 4.0 standard, Bluetooth 2.1 + EDR standard
NFC Communication
Realizing close range (shorter than 10cm) automatic pair between receiver and controller
External Devices
—
WIFI
Standard
IEEE 802.11 b/g
WIFI Hotspot
Adopting the WIFI hot spot function, any smart terminals (controller, cellphone and PC) can connect to the receiver easily
WIFI data link
The receiver can transmit and receive correction via WiFi
Data storage/ Transmission
Data Storage
8GB internal storage, supports external USB data storage, changeable record interval, supports up to 50Hz raw data collection
Data Transmission
USB data transmission, FTP download, HTTP download
Data Format
Static data format: STH, Rinex2.x and Rinex3.x etc
Differential data format: CMR+, CMRx, RTCM 2.1, RTCM 2.3, RTCM 3.0, RTCM 3.1, RTCM 3.2
GPS output data format: NMEA 0183, PJK plane coordinates, binary code, Trimble GSOF
Network model support: VRS, FKP, MAC, supporting NTRIP protocol
Inertial sensing system
Tilt survey
Built-in IMU module, calibration-free and immue to magnetic interference, correcting coordinates automatically according to tilt direction and angle
Electronic bubble
Controller software display electronic bubble, checking leveling status of the centering rod real time
Thermometer
Built-in thermometer sensors, adopting intelligent temperature control tech nology, monitoring and adjusting the receiver temperature in real time
Note: all information above is subject to change without any prior notice.